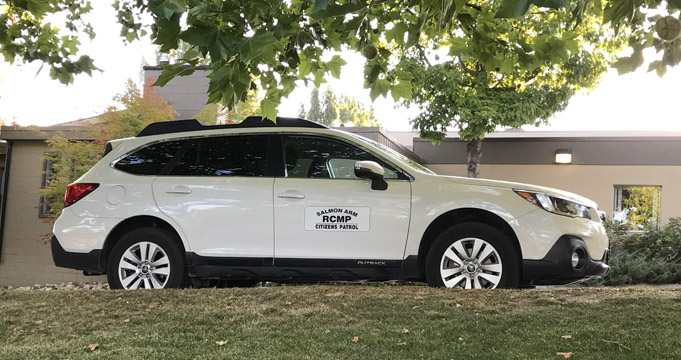 assist the RCMP in the prevention and detection of unlawful activities

provide the citizens of Salmon Arm with an organized and sanctioned way of contributing to the deterrence of unlawful activities

assist in community activities when requested by the RCMP, Insurance Corporation of British Columbia, or other community organizations
we always work in pairs during our 4 hour shifts

we travel in vehicles and also walk during nice weather

you drive your own vehicle on patrol with SACP/RCMP signage after first notifying our local RCMP Detachment and the RCMP Kelowna Dispatch Centre

your vehicle must be properly insured and in good mechanical condition

you are reimbursed for using your vehicle while on patrol

patrol hours are flexible, you and your partner decide to conduct day or evening patrols and your start time


Speed Watch
We set up portable radar equipment with electronic signage in schools, playground zones, and high-accident locations to give motorists instant feedback about their speed.
Speed Watch is a proactive program - we do NOT issue tickets.



Stolen Auto Recovery (SAR)
We download stolen-vehicle information from the Canadian Police Information Centre [CPIC] and use tablets to check for stolen licence plates and vehicles.
SAR is a proactive program - we do NOT issue tickets and CANNOT upload vehicle information.

Lock Out Auto Crime (LOAC)
We patrol malls and other parking lots reminding shoppers to hide their valuables from plain view and to alert vehicle owners if we notice expired insurance decals.
LOAC is a proactive program - we do NOT issue tickets but DO leave notices on windshields advising motorists, preventing fines, and protecting the driving public from uninsured motorists.

Community Activities
In the calendar year we normally assist with "The Coldest Night of the Year, the Jackson Secondary School 'Dry Grad' event, Canada Day celebrations, help to park cars during the Haney House "Spooktacular" and assist pedestrians at the Downtown Merchants' Hallowe'en "Treat Trail", operate the radar speed board at the Friendship Day "Soap Box Derby", assist with the "Fall Fair" and assist the Salvation Army with the "CP Holiday Train" event.


Social Activities
We have numerous couples in the group. Some like to patrol together but many prefer to go out with other partners every once in a while. It's interesting to get to know other members as well.
Although our monthly meetings discuss important events we do try to limit them to approximately an hour's duration, and do enjoy amusing Patrol anecdotes shared at meeting's end. We are currently "Zooming" our meetings because of Covid restrictions.
We believe that socializing is important for group morale and host one social event per year.